The first official Plastikrebell® CleanUp takes place November 15th 2017.
You can be an active part of it. Even if you are not with us on the island at the moment! Support us! You can read here why all of us better start acting.
Together with many other Ozeankind® followers from all over the world, the Ozeankind® Plastikrebell® CleanUp will begin on November 15th for 24 hours.
There will be bloggers, companies and many many private individuals helping. And they all have one thing in common: they have understood that plastic waste is one of the biggest problems of our time and they all want to make a difference! Check our Event-page onFacebook for more details.
What about you? Will you part of it?
It does not matter where you are. If just ready to help, it´s enough 🙂 Take 5 minutes, 10 minutes, half an hour or several hours!
Just grab a bag or whatever you can find – and start! No matter where. You'll find plastic garbage everywhere. In Germany, Thailand, Chile or Antarctica.
Everything that you find and that doesn't belong where you see it … simply pick it up! If your bag is full, just take a picture and if there is a scale available, we would ask you to weigh the stuff (if not, a good guess is also enough).
You can either send us the photo by e-mail or share it with us on Instagram or Facebook. But don't forget to use the two hashtags #plastikrebell and #ozeankind while posting it. And also do not forget to mention the place and the weight, please.
Ozeankind® Plastikrebell® CleanUp
We are happy about everyone who takes part and every gram of plastic that does not end up in our nature!
We count on you!

Ozeankind® cleans up 153 kg of waste on a single day
What do South Africa, Thailand, Israel, Egypt, Tasmania, Chile, Spain and of course Germany have in common? At first glance perhaps not much, but at second glance a very important thing: there is a lot of plastic waste everywhere!
Whether on the way to the kindergarten in Dortmund, during lunch break in Hanover or hiking in the mountains of Chile, at the other end of the world in Tasmania, on the beaches of Thailand's islands, on wild beaches in South Africa or in a Bedouin camp in Israel – everywhere Ozeankind® supporters collected garbage!
THANK YOU, THANK YOU, THANK YOU
So many people were part of it – this is simply amazing! Whether it was flip flops, glass bottles, polystyrene, clothing or above all PLASTIC – everything has been found. Of course many of our favorite products were collected – plastic straws, lighters, ropes, lollipop-sticks or toothbrushes. And once again an infinite number of PET bottles!
Whether on Facebook or Instagram, we dreamed of so much energy from all parts of the world, but we didn't expect it!
At this point, before we come to the final result … our big thanks go here also to the bloggers and companies who were supporting us and set such a sign – certainly many of your customers, fans or followers also helped secretly!
Leaving Comfort Zone, 4 Legs 2 Backpacks, Inaska Swimwear, Visuelle Taten, Fräulein Weltenbummel, Soulcover-Clothing, 7seasrope.co.za, Tausend Fremde Orte, TravelFestival (Laura Bieschke), Komm wir machen das einfach, Don´t worry eat curry, OnewayTravel, Startforheart and Geh Mal Reisen.
Some of you have sent us photos yesterday .. incl. a weight or at least just the weight or have linked us with one of the hashtags #ozeankind or #plastikrebell on their pictures – in any case we have now summed up:
ALL TOGETHER WE HAVE BEEN ABLE TO CLEANUP 153,06 KG OF WASTE! Amazing!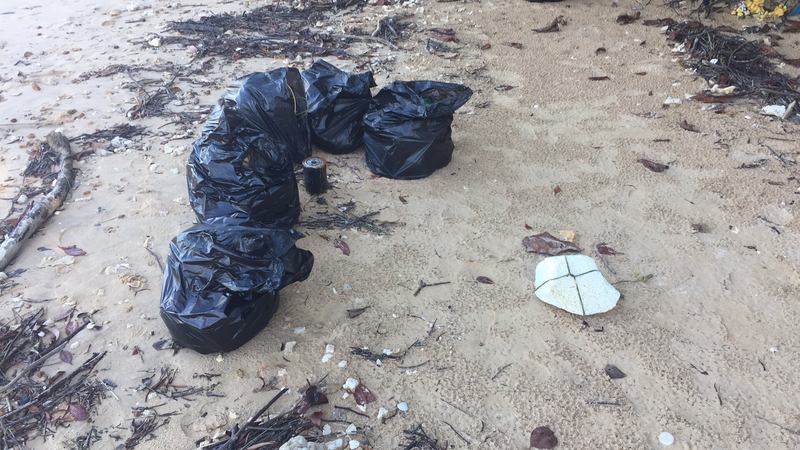 We are almost sure that the amount was a little higher in reality – because we have seen many comments that "only" said that one or the other also collected something – but here we still wait for the weight.
However, 153 kilos are a lot – and no matter whether at the river, lake, on the road, in the mountains or actually at the beach – in the end plastic is generally a danger for ALL of the animals (and for us as well) on this planet.
The next step, the next event is of course already planned – probably on December 10th 2017 – this time we planned it on a weekend, so that even more people can be part of it! And part 2 will be even bigger, take it for granted! Details will follow, but save the date.