Another milestone: the worlds' first official Ozeankind® SwopShop
Finally – from now on the small east-african island Zanzibar has its own SwopShop. After more than 2.5 years of dreaming the idea became reality. The grand opening of the worlds' first Ozeankind® SwopShop. With everything that goes with it. What a feeling!
After starting thefirst phase of our five-month environmental education project here on the island in July 2019, we were finally ready to open our first official SwopShop after a further six months of conception, coordination and preparatory work.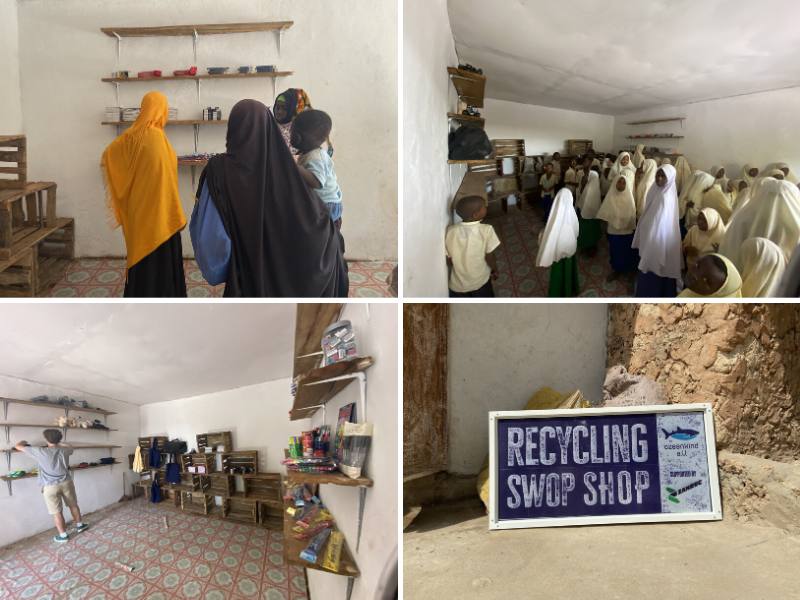 A small solution for the plastic waste, but at the same time a significant improvement of the local living conditions.
But wait, what was a SwopShop again? Well, basically the shop is about the combination of "Save the Environment" and Recycling – to be something a maximum possible number of kids understand and live. It is about adding value to plastic waste. In a SwopShop the children will get cool and useful THINGS instead of money or candies.
Creating jobs. Remove plastic waste from the environment. Give back!
The shop beats two flies with one flap:
We have hired two local ladies which did not have any job before.
Based on the fact that on Zanzibar unfortunately women do not have a lot of power we have decided for two local ladies from the village. Unfortunately the role of women is very conservative, even today. Basically it means that the man usually has more power and more rights than the woman. Kids and household – the responsibilities of many women are just these two things. Thats it.
EMPOWERMENT of the KIDS.
By collecting and returning the plastic bottles, children can choose things they want (without worrying about what it costs), things they need or that they simply enjoy, like any other child on this planet. Above all, however, things that the kids themselves have wished for (and that is important!) and which, unfortunately, they often cannot buy – either because they don't exist or because they don't have enough money to buy them. Great things like stuffed animals, coloring books, pens, all kinds of school stuff, hijabs, shoes, toy cars or soccer shoes.
Remove plastic bottles from the environment.
Less waste and less environmental harm – not to forget the improvement of the peoples' health. More environmental awareness and higher environmental education of the kids.
Recycling of plastic bottles.
Our project partner Zanrec takes care of the collection of the bottles and at the same time prepares the recycling, which is then carried out on the mainland by another company. The caps of the bottles (plastic HDPE) remain on the island and are upcycelt by Ozti into wonderful products.
Things go back to the community.
Ozeankind e.V. is funding all those items. We deliberately want to transfer money to our project partner for the purchase of the goods to strengthen the local economy. Under certain conditions (please read below) we can also accept donations in kind.
Without a partner this concept would not work.
We work very closely with our local project partners and together we discuss all ideas and suggestions for improvement – to find the best solution for the children in and around Kendwa village. So our "local team" takes care of the implementation and above all the communication for the villagers. And that is how it should work!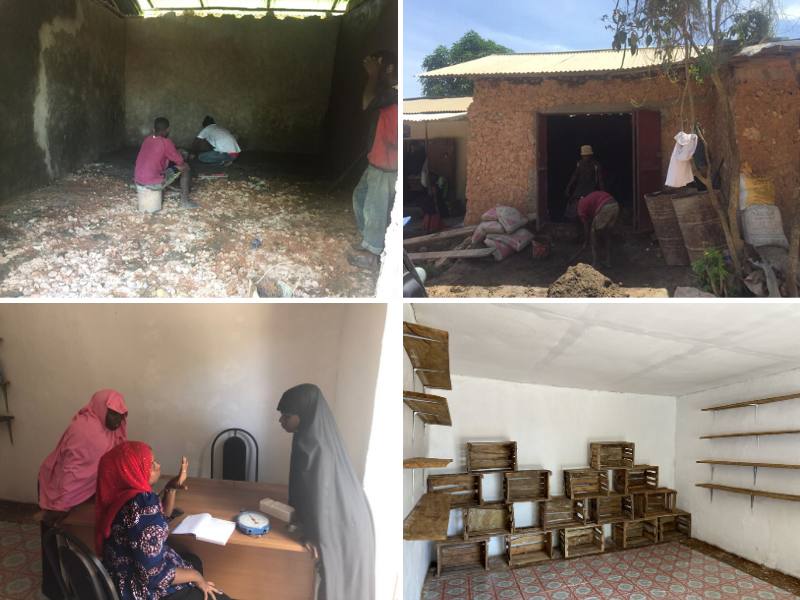 One thing at a time. First step: find a shop as close as possible to the local school. In the first project phase we involved a school in Kendwa and in Nungwi, so it was our aim to start the second project phase in one of these two villages with the SwopShop. Due to the ideal shop location, we have decided on Kendwa to get the first SwopShop on Zanzibar.
So once we had found the right shop and received all the necessary permits, we could start the renovation work immediately. And after a few conversations with something like the council and other responsible persons of the school and parents in the village, the first interior equipment could be bought actually quite fast. And job interviews were held – and we could stock up for the very first time.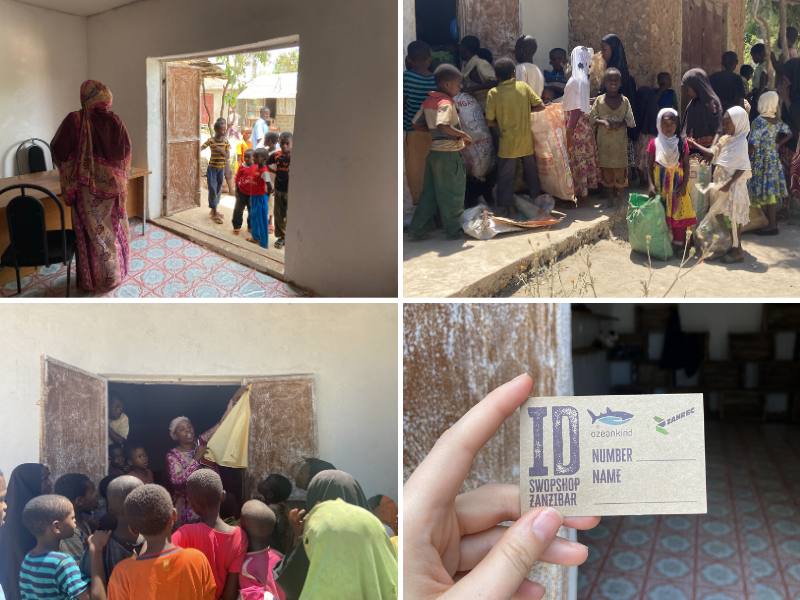 Above all, we are also concerned with the "empowerment" of the local children, who may be able to fulfil one of their many wishes by collecting and returning the plastic bottles. And not to forget that countless plastic bottles hopefully disappear from the environment of Kendwas, which otherwise would have landed in the "best" case on one of the countless illegal dumpsites.
How can I support the project?
First of all we would like to see – together with our local partner – how the concept is accepted, which goods are needed and also at what distance new goods have to be bought. Therefore we would like to refrain from donations in kind from the community for the time being.
However – if you are actively planning a trip to Zanzibar and would like to leave things in the SwopShop for the kids, please contact us in advance by email hallo(at)ozeankind.de. Because we would like to discuss which products make sense and are needed first.
Or – you are a company and would like to support us? So just drop us a mail: hallo(at)ozeankind.de.
Generally – everybody can support us with a donation. So the Ozeankind® SwopShop is our biggest project so far and uses a lot of our fundings. Therefore we are pleased about everyone who would like to support our work and therefore also this project with a donation or supporting membership.
The story behind the SwopShop
It has been in August 2017 when we have started our journey. At that time we have decided to quit our "normal" matrix jobs, dissolve our household, exchange our rented apartment for freedom and a life out of a backpack. After a life-changing journey in March 2016, we decided to use our savings to become active in the fight against plastic waste ourselves. We wanted to collect garbage, organize CleanUps in other countries with as many people as possible and above all understand WHAT we ourselves can contribute to be a part of the solution.
First stop: South Africa We were in this country for two months, two weeks of which we worked with white sharks at WhiteSharkProjects, did clean-ups and also got to know the principle of a SwopShop for the very first time. Because we had never heard of it before.
The small shop is located in a township called Masakhane, close to Gansbaai in southern South Africa. Here you can find things for children, e.g. school material, clothes or toys. Children bring the plastic bottles (but also glass or cans) lying around from their surroundings to the shop and receive vouchers which they can exchange for goods from the shop.
Basically a very simple idea that has really taken root in our minds. In September 2017 we were on Zanzibar again. We collected rubbish and above all got to know our todays' local project partner – ZANREC. I still remember Micha talking about the concept of the SwopShop back then, but we didn't know yet that there would be Ozeankind e.V. very soon and that not even a year later we would open our own Ozeankind® SwopShop here on Zanzibar.
Later, in October 2017, we encountered a similar concept again in Bangkok, in a poor district near the airport. We have published a small video on our Youtube channel.