Little Jojo (8) makes plastic waste in elementary school her project
We gave an interview to a elementary school girl and were also asked to write an open letter to all the parents. Not only was it a lot of fun and generally quite cool, it also touched us deeply in many ways. First of all because little Jojo was just cute. Then, of course, it's also damn cool to see that the topic of plastic garbage already reaches elementary school . And not to forget the fact that children at the age of 8 even have the idea to teach their own classmates about waste in the sea! The plastic waste topic in elementary school – how cool is that?
The open letter to all parents of the Auguste elementary school can be found at the bottom of this article.
First feedback: "The project was a great success. There were so many other mothers approaching me, thanking me for the parental letter and the kind reminder. Everyone who spoke to me now wants to pay more attention to avoid plastic in everyday life. Yay!!!!"
We don't know about the weird you had when you were 8 years old when you were in elementary school. When we were in elementary school, and that has been between 20 and 30 years ago, we had a lot of different things in our heads – plastic in the ocean was certainly not one of them. But times have changed, children today are often much further in their development and the world has other problems than it had three decades ago. However – the problem of plastic waste already existed back then but, at least in the beginning, nobody noticed it or even wrote about it.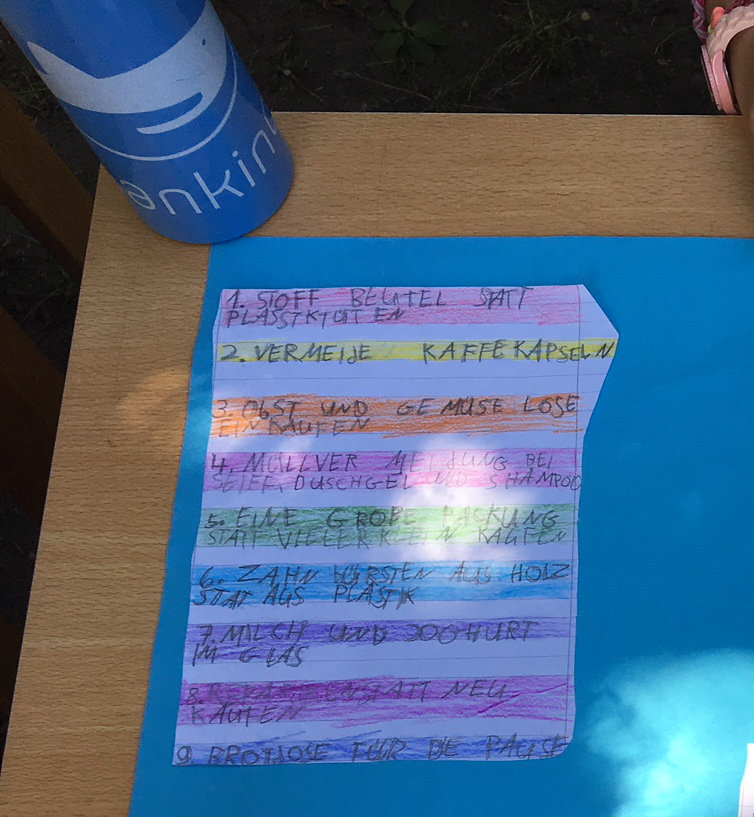 Plastic waste in primary school – times are changing
Well, fortunately things are bit different nowadays! However, this article does not need much text from us at all – the photos in this article already tell us EVERYTHING. Oh yes, before anyone asks – we have a new data privacy agreement in the EU. Therefore this reference … the mum of Jojo has made all photos of this contribution available to us and we have her written agreement that we may publish these pictures (also those with Jojo on it) here. Greetings from our beloved DSGVO.
But now back to the topic! The fact that a child puts so much effort into this subject, into such an unbelievably important subject, nourishes our hope that in this world one day some things might really change.
But now it´s time to introduce the small (big) Jojo to you. Jojo is eight years old and at her young age almost a professional plastic rebel. For the project week in her primary school she has chosen the topic "Garbage in the oceans". Since Ozeankind® Plastikrebell® is of course much cooler than most other environmental projects in Germany, the mother of Jojo wrote us the following email …
Hello,
my daughter, 8 years old, has a project week in school the other and has chosen the topic "plastic waste in the ocean".

They can design it themselves and present it however they wish. Now my question: do you have videos or photos that we can use (only for the presentation of the project in school) … and can my daughter maybe also

do a little, short interview with you?
You can listen to the result either here or check it below … or both!
By the way, do you already know about our own plastic book for children? Maybe you would like to dive deeper into this topic – together with your children?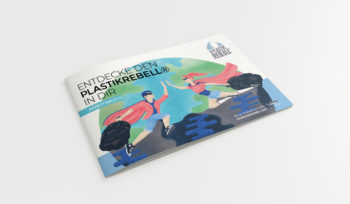 Open letter from Ozeankind® to the parents of the Auguste Primary School
Dear parents,
many years ago the german band "Die Toten Hosen" wrote a song in which they remind us that it is our country and that we can't keep pretending that it's none of our business. And in another song they promise us that the time will come when making wishes will help again. Even if both lines of text in the respective songs are meant in a different context – these two statements should give the framework to this letter.
As you may have noticed from the introduction to this letter, this letter for parents is not about school trips, the timetable for the coming school year or the school evaluations of your children.
It's about something which is perhaps, possibly and maybe even a little more important than certificates or timetables. And maybe this letter will be the longest parent letter you've ever received.
You receive this letter because there is a little girl at your children's school who has chosen the big topic "plastic waste in the sea" for the project week – and because the dear mother of this little hero has asked us if we could an interview to her daughter. We were very happy to do that – and this letter for parents might round off this interview in a certain way.
However … after three paragraphs of a letter it might be time the fourth paragraph to introduce ourselves briefly. We are Marina and Micha and we are the two proud founders of our project called Ozeankind®.
A different journey around the world
A good year ago we quit our jobs, left our home in Düsseldorf and have been traveling around the world ever since – to make a difference. Nowadays we still pick up the garbage of other people, in the environment of the most different countries of this world – full time. At the same time we try to motivate as many people as possible to support our mission and to start thinking again. We are now allowed to speak at festivals, give lectures and collaborate with great companies and organizations. We keep on collecting garbage. Other people's garbage. In our own shop, we offer products that help you save on plastic or products that are made from garbage.
More than 18 tons of waste have been picked up already … more than 4.000 kilo of it in our own environment right in front of our own doorstep, in the german environment. Luckily we aren´t collecting just on our own – now more than 7,000 great people are supporting us. Whether month after month during the international #Plastikrebell® CleanUp or simply in between.
You may ask yourself what exactly this immense amount of garbage has to do with you. Both with you personally and especially in your role being parents of children whose world is the focus of a project like theOzeankind® project.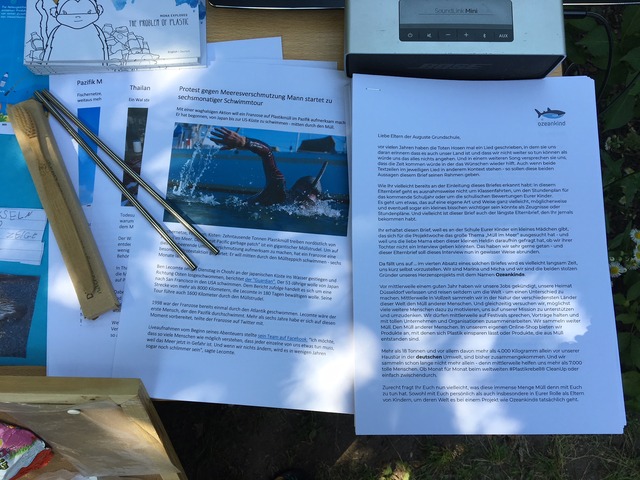 At this point we would like to come back to the first song mentioned in the introduction of the letter. Because we must not close our eyes any further and not simply do nothing.
Germany has a plastic problem
Did you know that no country in Europe produces more packaging waste than Germany? That even if we return about 98% of the bottles to the deposit machines, that only the maximum of a quarter of these bottles become new bottles? That waste is officially considered recycled in Germany even then and thus pays into our imaginary recycling quota of about 80% when it is burned or shipped abroad? That a river like the Rhine alone transports about 191 million plastic particles every day on its way from the source to the mouth of the river towards the North Sea? That even our shower gel, peeling or sun cream contains plastic? Or our clothes?
Again and again we have asked ourselves the same question, just like many other people in Germany do these days – who is actually to blame for all these things?
The Industry, which needs to find alternatives to plastic packaging (Bioplastic is not an alternative!)? For sure.
The supermarkets who don´t seem ready to ban single-use vegetable or fruit bags from their stores and who don´t make it easy for us to shop with less plastic. Definitely.
Or the politics that continues to bow to the pressure of the lobbies and more or less does not even recognize the problem? Sure.
There is no doubt that all three "parties" are to blame for the littering of the world.
But we are convinced that unfortunately there is still a fourth guilty party.
Because many of us consumers are still hiding behind a questionable recycling system, blaming people in other countries and waiting calmly for changes and laws from industry, supermarkets or politics. We are often not prepared to leave our comfort zone.
Many continue to refuse to replace plastic straws, use sustainable bags instead of plastic bags, and take less than five minutes to use an app to check if the shampoo contains plastic. We continue to buy water in plastic bottles because it is comfortable, treat ourselves to the salad in the plastic bowl at noon and give our children drink packs or bread packed in plastic bags to go to school or kindergarten. And on vacation we apply sun cream containing plastic before bathing in the sea. And we don´t mind if the coconut comes with a plastic straw.
Plastic Waste in elementary school
But do we really have the time to wait? How long can we hide behind the statement that we can't change anything, that we can't make any difference? Behind the delusion that the garbage is gone forever just because we threw it in the according bag? And above all – what impression do we make on our children?
Do you remember that we told you earlier that we collected 18 tons of garbage with Ozeankind®? We think 18 tons are quite a difference, and have other people maybe thrown some parts of the 4,000 kilos into the yellow bag believing it was gone forever?
At the end of this letter we would like to come back to the lyrics of the second song of Die Toten Hosen mentioned at the beginning. It was about wishing.
It´s our wish that you will make your children aware of the importance of plastic waste. That many of you will look out for alternatives when it comes to the question what you give your children in school. Because each one of us can make a difference, no matter how small or large it is.
And even if the football World Cup starts in a few weeks and people like Manuel Neuer or Thomas Müller will perhaps be role models for about a month, in the end you, dear parents, are the real heroes for every child.