The final result of the 14th international Plastikrebell® CleanUp
1.701,78 kilos of garbage, 90% of it was picked up in our recycling wonderland Germany. This is the sad resulut of the 14th international Plastikrebell CleanUp last weekend!
What an amazing result! EACH AND EVERYONE SHOULD BE PROUD! Even if way more than one and a half ton also make us sad. Last weekend, more than 100 people decided to make a difference themselves instead of just complaining and waiting for others. So we want to say a huge THANK YOU to all who participated in these two days.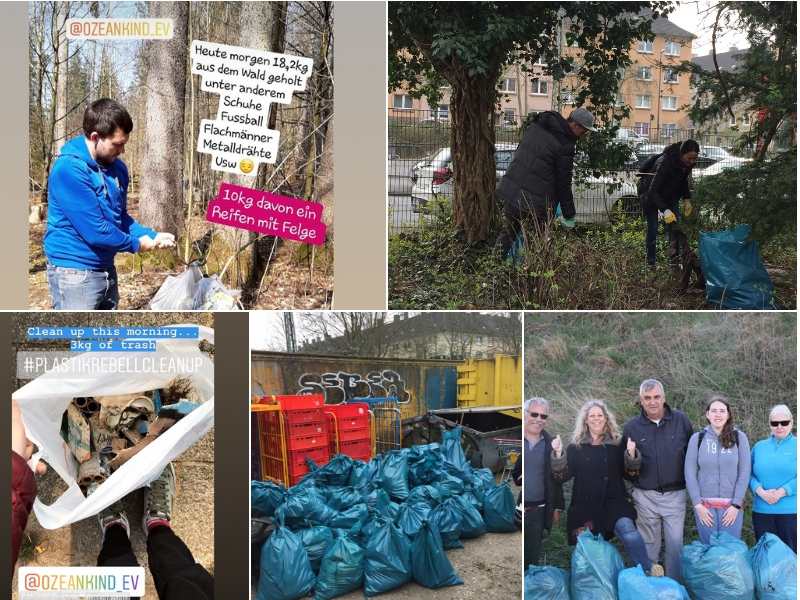 Also the two of us were following one of our Plastikrebell® professionals. Romy of leavingcomfort.zone together with the local REWE in Dortmund has invoked everybody for a CleanUp in the Westpark. We went there as well and together with about 80 other motivated people we took action for about two hours. In this one park alone, in the middle of Germany, we needed to pick up almost 700 kilos … in the end we have counted 680 kg of waste! Crazy. In the middle of Germany! The argument "Plastic pollution is an asian problem" really sucks more and more. It´s simply not only in Asia, even if they actually really have a problem over there.
Particularly attracting our attention …
👉 MORE FEEDBACK. There is more and more positive feedback from walkers, cyclists, car drivers. In some places people even got a finder's fee.
👉 MORE TEENAGERS. A lot of people from the # fridaysforfuture generation have been participating this time – which is absolutely stunning!
👉 LOTS OF PEOPLE CAN MAKE LOTS OF DIFFERENCES. Even if we would not have collected almost 700 kilos in Dortmund alone … all the others would still have collected more than a ton of plastic waste and other rubbish.
👉 ANNIVERSARY meets PREMIERE. Lots of you have participated for the first time, but a lot of you guys have been part of our events for the 10th time.
👉 GERMANY is DIRTY. Our recycling-wonderland, which of course "never ever" has a problem with plastic waste, is surprisingly messy. Almost 700 kilos IN A SINGLE PARK in Dortmund are defintely a lowlight of the weekend.
And another thing, a statement that really fits our rebel DRIFT very well:
Those who stand up for the right thing don't do it because they think it will work. He's doing it because it's the right thing.
For many of us, the Plastikrebell® CleanUp is way more than just "picking up other peoples waste". It is proof that it does not necessarily need thousands of people at the same time in the same place to make a difference … but that mutual motivation, teamwork and above all ONE IMPORTANT COMMON OBJECTIVE are enough to make hundreds of people in different places both their own world and the world of children a little bit better.
By the way, you can easily become a supporting member of our NGO: Become a member here or join our free Facebook group.
The fact that we have already removed more than 33 tons of garbage from the environment or at least moved it to a better place than before is almost the most beautiful and most important "minor matter" of all.
Cool thing, when's the next CleanUp?
After the CleanUp is before the CleanUp. Because also in April there is of course the next possibility to be part of it! Including November there will be events. We´re looking forward to it. Where to find the upcoming dates? Here or on our Facebook page.