Monheim meets Plastikrebell® – lots of plastic waste at the Rhine river!
We collected plastic waste on the Rhine. And we weren't alone! On the contrary! Just a year ago, we couldn't have dreamed of this any better. That we collect plastic waste on the Rhine is not new, neither for us nor for you. Ok, but that is not all. But I'll have to go back a little further for that.
Click here for the video:
In February 2018 we sat in our small room on the Maldivian island of Rashdoo. We had just booked the return flight ticket to Germany, because we´re gonna have a speech on the 3rd Travel Festival in May in Witten on the beach stage. And once again we asked ourselves our favorite questions, which always start with "What if…?"
What if we would organize an environmental day together with a city? With plastic-free catering, without straws, with glass bottles instead of plastic bottles, delicious healthy food, with a lecture by us and a common action with which we pick up plastic garbage together. What if a city would be a role model and give us the confidence that we could do something great together? What would happen if this would also bring us some press and as a result, other cities might be interested?
During a Skype session with our friend Tina, we had briefly discussed the idea and brainstormed directly together. Our beloved Tina has been setting up her own business for a few months now: Plasticfree Catering. Tina also thought the idea was great and was very quickly sure that she could be a great supporter of the planned "What if … event".
Monheim at the river Rhine – a different city
Why Monheim? And not Düsseldorf? Of course, Düsseldorf is our home, that's why both of us have been there and recently and together with 10 supporters during our last Plastikrebell CleanUp. But for such a day of action we would like to work together with a city that already does a lot of things differently and that has already taken an exemplary role several times in the past in the most diverse areas. And the city of Monheim is somehow … different.
This city is modern, open, committed, visionary and would like to shape the city together with the inhabitants instead of simply administering it for the citizens. Monheim is strongly committed to climate protection, has been a fair-trade city since 2014 and is committed to social justice. And the city of Monheim am Rhein is very interested in environmental protection – as good as it´s possible for a city.
In addition, there is this young mayor who in charge for Monheim since 2009.: Daniel Zimmermann. He was then elected the youngest mayor in North Rhine-Westphalia at the age of 27. He is now 36 only and so he is, very importantly, also part of our generation. And it quickly became clear: if there is one city with which Ozeankind® would like to team up with, then it should be Monheim. We really wanted to work with this city and be a small part of the future of it.
The event was getting closer … would everything really work out?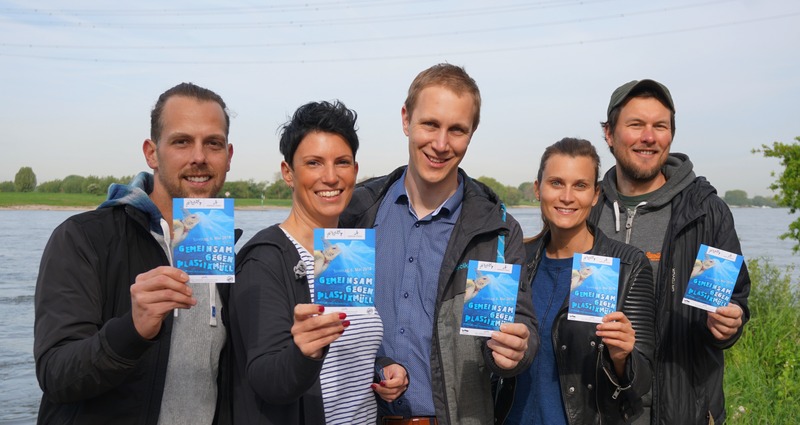 In March and April we developed the final concept together with Tina. Christian Kaindl, responsible for the cultural center named Sojus7, was quickly enthusiastic about the concept and, after consultation with his boss, the mayor, made the event rooms of the Sojus 7 available to us. We even got the funding for special flyers which we distributed with many diligent helpers in the city. This was crazy! And it even got crazier.
Monheim meets Plastikrebell
A few days before the event we have met with Daniel Zimmermann near the Rhine. As befits an environmentally conscious mayor and because he is simply an unbelievably cool guy, the dear mayor did not come by car but by bicycle to the agreed meeting point. First official act … he directly pointed out to Christian Kaindl that his dog had just immortalized himself on an urban monument stone.
In the following minutes we were able to introduce him to our mission and our project and he was still (or even more) motivated to let the event take place in Monheim and asked us if there was anything else we would need. Our wish – a container and perhaps some pliers – was promptly accepted. Finally we took a group photo, which should be printed in the local weekly paper. I unconsciously decided during the meeting to call the mayor by the name. By accident – I still don't know if he noticed it or not.
And in the end … the photo was printed. It was printed on the absolute front page. Completely perplexed we looked at the Saturday edition of the local newspaper. On the title a big picture of all of us: Christian Kaindl, Tina, the mayor and the two of us. Ozeankind. Micha & me. Crazy things going on here! The buzzing slowly began. Because we calculated with a maximum of 30 people who would come on May 6th to meet us. We would have been really happy about 10 people already! But with such a photo on the front page … and it came even better …
We have collected plastic waste on the Rhine together with 90 helpers.
In the morning we set up tables, distributed some chairs, checked the computer hardware and Tina took care of the physical well-being. Also the weather was ideal: 27 degrees and blue sky.
We asked ourselves? "Will people come to us even with this weather?" That´s what we have asked ourselves.
Shortly before 11 o'clock a handful of people arrived. We stood next to our laptops ourselves and thoughtfully went through the lecture again. Slowly but steadily more and more people came. Especially kids. Some with their parents, many together with their school friends. Several school classes entered the room. A bunch of children, aged between 9 and 16 years. But also some couples.
And then it all began. Micha & I stood on a stage for the first time and were allowed to talk about our heart project, our experiences of the last eight months and what every single person has to do with the global plastic waste problem. And more importantly, what each individual can do to improve the overall situation.
It was an unbelievable feeling. In my life I have never really had much pleasure in "presenting things", I always had the feeling to forget something important, not to make a good impression. However, in this moment it was all different. Because it was something that my heart is attached to. My baby, my ideals and my mission and not someone else's. Sure, I was excited and nervous – but the joy clearly prevailed.
Because we had the opportunity to share our view of things, our desires for the future with others, and to be not the solution but part of the answer – together. THAT felt incredibly great! The 30 minutes flew by. At the end there was applause and some questions.
Even at the risk of repeating myself – it was just crazy!
Let´s go! Collecting plastic waste at the riverbank of the Rhine
We split into three groups. One group along the road to the playground and two groups along the Rhine. After an hour and a half everyone came back to the Soyus completely sweaty and (unfortunately) also with full garbage bags. After cold drinks, coffee and cake we started to weigh the garbage.
In the end we had more than 300 kilos, exactly 304,95 kilos of waste.
Beside glass bottles and many things from barbecue parties we also found old chairs, a table top and even an old rusty barbed wire fence! All this was placed in the container provided by the city of Monheim.
What else can we say but THANK YOU?! Thanks to the support of the city, of Sojus 7, of Catina Catering and Kitchen AND especially thanks to all of you who made this day a very special one for us! We will certainly repeat such environmental days/afternoons.
In the end all we can say is:
THANK YOU to the city of Monheim am Rhein and the Soyuz 7, to Cantina Catering and Kitchen and to the 90 Monheim citizens s of all ages – a perfect combination for a perfect day. THANK YOU to everyone who made this day possible!