Ozeankind Project Maldives – Baa-Atoll
The idea for Ozeankind® was born on Maldives – so for us there was no doubt to realize the first NGO-project exactly where it all began – on Maldives. Because there is a strong connection to the country in the middle of the Indian Ocean. In the unlikely event that you don't know anything about the history of Ozeankind yet, check out this post! Actually this is the 4th CleanUp we do on Maldives, because in the recent past we already did 3 CleanUps with 5.175 kilos of collected waste (find out more here).
By the way … the first time that we personally cleanup up abroad was in April 2017 … of course on Maldives. On Earth Day 2017 the Reethi Beach Resort was organizing a CleanUp event on Kihadhoo, together with the locals and Parley Maldives. And WE were part of it. But at that time we haven´t been Ozeankind – we were just tourists.Check the video here (actually it was the first video ever as well). 🙂 But why are we telling you this? Because a circle has closed.
2-day Ozeankind® e.V. project on Maldives – in partnership with wonderful Reethi Beach Resort.
We had great memories of our experience 2 years ago … Already back then we have been lucky to speak to the resort manager Peter about sustainability on a maldivian island, about environmental protection and plastic waste – and we also informed him about our plans for the project, And then we have contacted them again … … but this time not as tourists, but as the chairpersons of our own NGO in order to introduce our first project idea.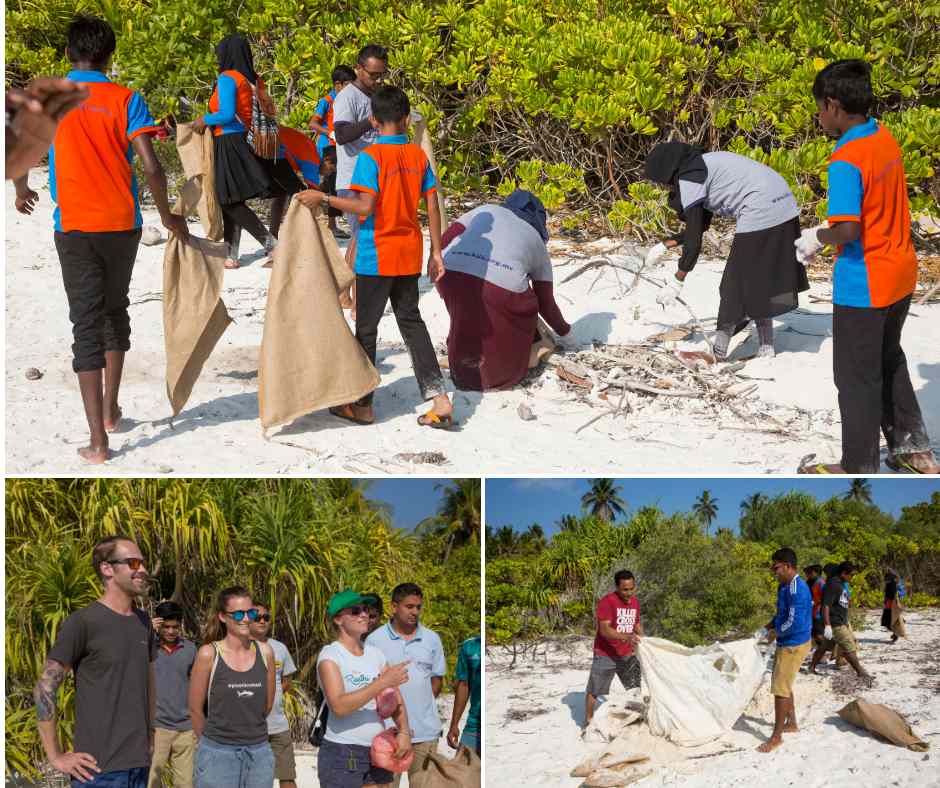 Day 1 | February 22nd, 2019:
Together with staff from Reethi Beach Resort, a group of school children, eight tourists as well as with the local NGO KIDS from Kihaadhoo we did a first island CleanUp. In the end, at least 40 motivated people cleaned an uninhabited island which is normally used for excursions. After almost two hours and 30° celsius we´ve been bringing a lot of bags full of waste to the boat and we went back to the resort. Of course we did not throw everything back in the ocean … no, of course we have separated everything and weighed the stuff.
And it was a lot: 21 kg tin, 16,2 kg plastic bottles, 3,9 kg cans, 27 kg metak, 12 kg glass und 46,5 Kg other faste (foils, other packaging, paper, microplastic pieces). In total: 126,6 kg!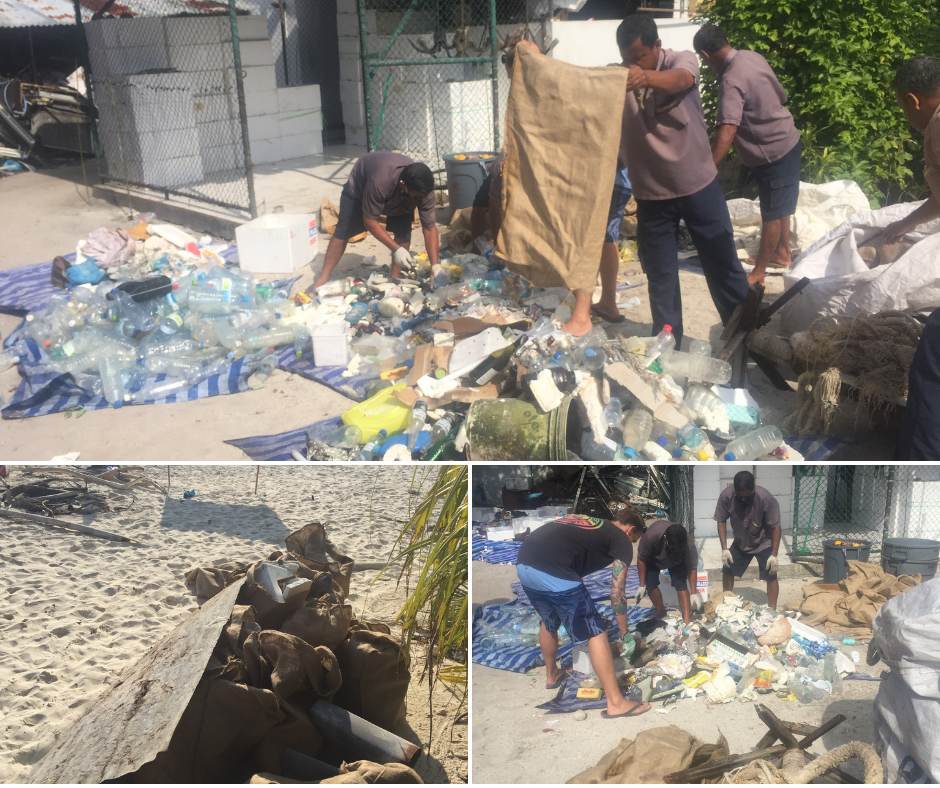 Day 2 | February 23rd 2019:
On the second day we have decided to do a reef-cleanup on the house reef. Even for us this was quite new, never did that before. Of course, every time we go into the water we come back with boardshort bags full of what we find. But this time it was different. And it was so much fun! But what did we find? Luckily, this time it was not too much plastic like bags or bottles, but lots of old ropes, fishing line, smaller plastic pieces and again some metal. In total it was again 95 kg.
But what happens to the waste afterwards?
The eco-resort Reethi Beach sets high standards on waste management, they even have an own waste combustion plant. First everything gets separated (and we also have sorted some things out here). The plastic bottles will be handed to Parley Maldives. From the plastic they will produce an eco yarn which will be used to manufacture shoes or shirts later on. Waste. which cannot be recycled here, such as plastic packaging, ropes or styrofoam will be shipped to Thilafushi (the waste island of Maldives) in order to be burnt. However we have heard rumors that some thing are separated again to be sold. Tin as well as metal is stored on the island and is being sold to recycling companies. The glass is gonna be brought to Soneva Fushi Resort where it will be used in the glass production process.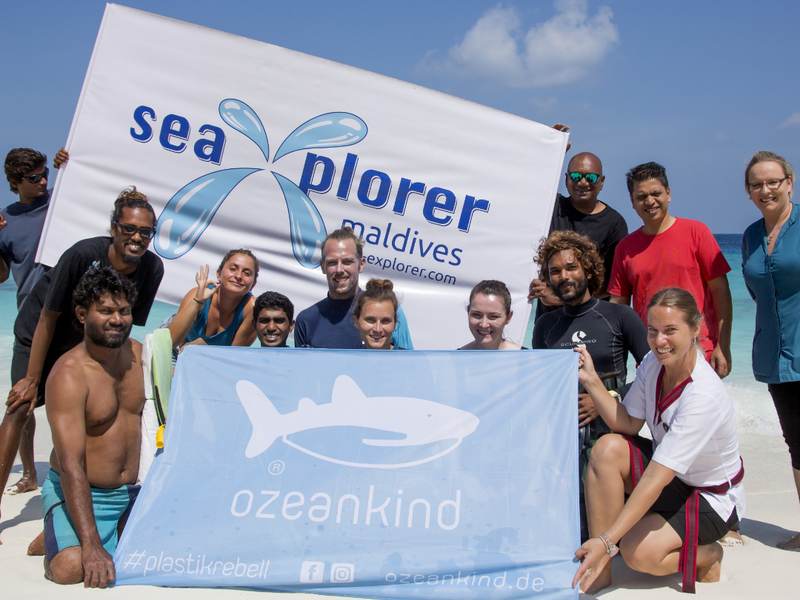 Additional information about the cooperation:
When it comes to environmental protection and sustainability and if we think about cooperations – this are our standards:
local and sustainable energy management & water preparation
close relationship with local people
no use of chemicals harming the environment (against mosquitoes, for the pool, …)
waste reduction, sustainable waste management and local recycling
We did not use donated money from the NGO except for this project, except the transport from Kuala Lumpur to Reethi Beach and back There were no additional costs for the NGO.