The 5th Plastikrebell® Ozeankind® CleanUp took place in Germany.
Okay, our CleanUps take place in Germany every month 😄But this time also the two of us have been active in our home country as well.
Amazing – this is the 5th cleanup event! Probably it´s hard to imagine how this feels. It just makes us proud. And not because of the fact that we both had this idea, no, it's about much more. That again people we have never met before, in different countries, helped us to collect the garbage of other people. In the meantime, it all has become a small movement – of many people connected by one thing: not talking but doing, not waiting for others but acting, not pointing the finger at others but questioning themselves and looking for possibilities to change things in THEIR everyday lives.
THIS is what makes everything so special. You wanna join the community? Check our Facebook-Group. Nationwide people are connecting each other, sharing tips, experiences, motivating each other.
Where did people clean up this time?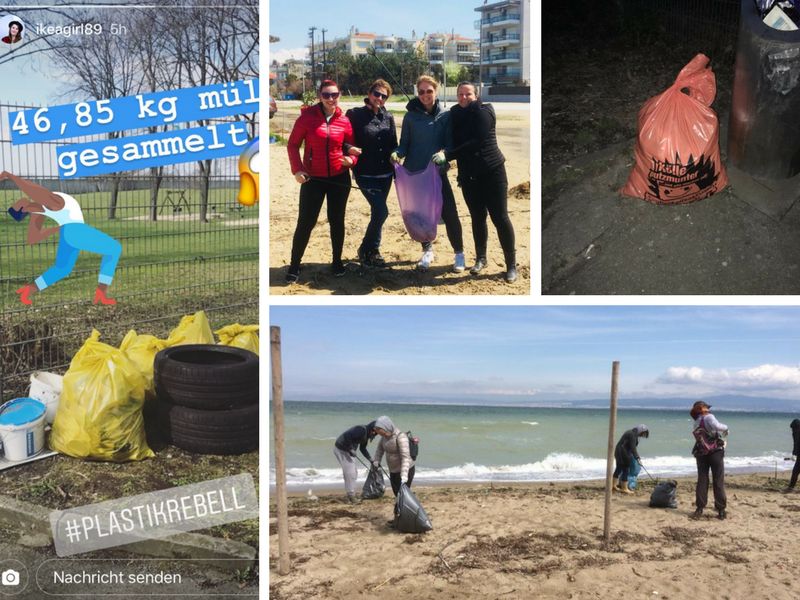 Germany was clearly the number one during the March CleanUp. We have never got so many messages and photos from our home country before. Rebels have been active in Thailand, Vietnam, Poland, England, Denmark, Montenegro, Greece, Zanzibar, Switzerland and also in Austria!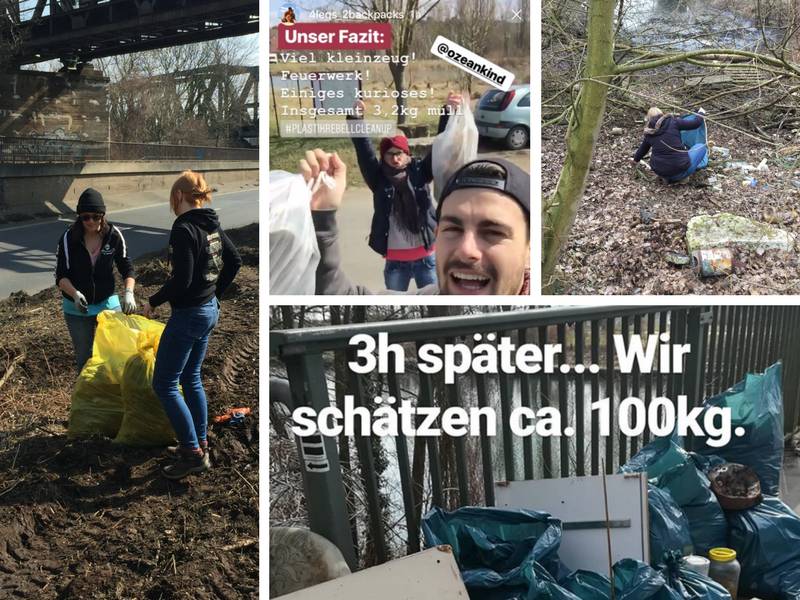 Where did WE clean up ourselves?
What did we do while our community was cleaning up? Of course we also been in action – on Saturday we spent about two hours in Osnabrück collecting. Near the canal behind the Osnabrück rowing club we found a lot of rubbish in kind of a forest. And this waste hasn't only been here for a few weeks. It was old. There can be no doubt.
We found a lot of glass bottles, plastic bottles and plastic packaging of all kind. Actually the strangest thing we found was a porn collection. We guess somebody didn't want to dispose of his passion in his or her normal household waste. Somebody could have seen it .😂. 67 kg of rubbish – that´s the amount we´ve been able to remove from the canal, with the help of Isabel.
Sunday morning we then flipped a coin. Why? Because luckily there are a lot of people in our community who organize clean-up activities in their region on their own, within the frame of the Ozeankind® CleanUp. We would like to join so many people at the same time and cleanup together with them. However … that´s not possible. Biologically. Not yet. So the coin has decided … we jumped into mums car and went to Duisburg.
There Melanie had organized a CleanUp, talked to the city, which also collects the garbage afterwards. Together with her friend Jannika they collected garbage next to a busy street. We then drove mums car around the corner … surprise! So we helped them for the next two hours. We have removed 109 kg from the environment.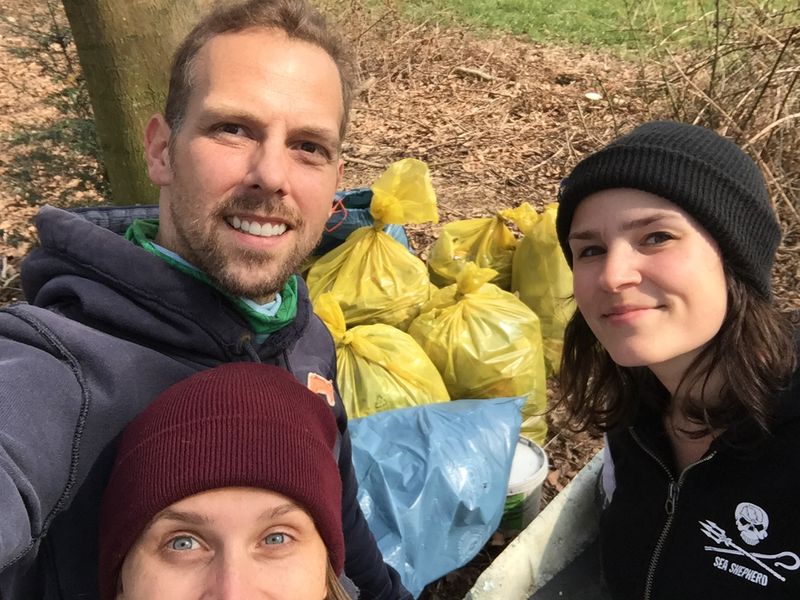 Also the police spent us a visit – someone obviously thought that we would dispose our household garbage instead of cleaning up. But it was easy to explain the police guys – so they said thank you and went away.
The March result
An amazing result – but also frightening. In the end, it was 1.518 kg of waste. Again, one ton of garbage came from Germany. And that´s pretty sad, to be honest. Still many people have the opinion that "our country is so clean" and we have a "great recycling system".
If so, why the heck is so much waste disposed in the nature? Why don't people use the existing rubbish bins and glass containers? Why do so many people still hide behind the statement: "my garbage doesn't go into the sea, I put everything in the proper bag"?
Why is our recycling-system (almost 50% of it is simply burned) something like a general apology for producing an infinite amount of garbage and consuming more and more goods wrapped into single-used plastic? Where is this going?!
But enough questions… we think this result is kind of an eye-opener. And it´s a clear message.
With our monthly actions we try to prove again and again that it makes a difference if each individual starts to think and starts to act. We want to wake people up and show them that we all need to rethink and should drastically reduce our own plastic waste consumption.
Our environment, our earth is worth it.
We are worth it, our children are as well.
THANK YOU to everyone who is working with us to advance this mission and to everyone who is supporting us.