Phase

one:

Our first environmental education project-phase on Zanzibar has come to an end.
We have a reason to celebrate! Our fiive-month project, at least the first phase, has come to an end. So this is something we need to realize. Within our first year as an NGO we have funded and realized an international project. Thanks to each and every supporter in 2019 – only with your help we could make a change locally!
Small summary:
Umweltbildungsprojekt auf Sansibar:
Accompanied by special teaching units on the subject of environmental education, numerous workshops and clean-ups, the children of two schools in northern Zanzibar collected a total of around 95,000 empty plastic bottles in their neighbourhood during the first project phase from July to November 2019 and brought them to school.
After our recycling partner regularly collected the bottles for further processing, the material value was distributed to the two schools again. From this money, urgently needed things for the schools can now be obtained and excursions organized. And the kids LOVE those excursions!
No projects without us
It is important to us that we can make a difference together with our local partners locally. It is about helping people to help themselves and not to give the impression that rich and white people come to a poorer country and want to change everything.
We see ourselves as partners at eye level, seeking the conversation of the locals. Because they know what is not running smoothly in their country, what challenges one should prepare for and what contacts one needs. In short: we provide financial help & concepts how we as a team can reduce the plastic waste pollution & create more environmental awareness among the children.
PayDay. Who is the winner? Did the kids learn something – and if they did, what is it?
The kids had a lot of fun during the project – and they have also learned something. They even said that the project came to an end too fast – they would have preferred to learn even more 🙂 At least that is what our local partner Zanrec told us. So as you can imagine – we are very very proud! And no doubt: we will go on! But we will come on this later.
So the challasnge was between kids from two schools – Kilindi school in Kendwa and Nungwi school in Nungwi.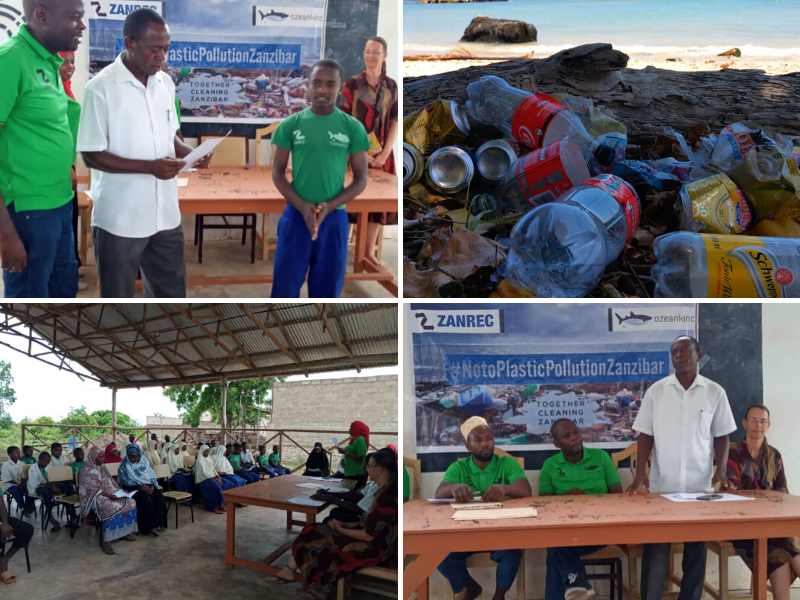 1.234 kg has been the tremendous amount of PET plastic bottles the lods from Kilindi school in Kendwa have been brought to the schoolyard cage. Plus 25 kigs of HDPE (lids). This compares to about 41.133 plastic bottles! Based on the idea that the bottles are about 30g each.
The Nungwi kids have been brought a total of 1.603 kgs to their school during the project. So there is a winner! 🙂 HDPE (lids) was 14.5 kgs. That is about 53.433 plastic bottles! Again, based on the idea that the bottles are about 30g each.
We are soooo happy! We did not expect this first project to be such a great success. We had wished for it but we could not even dream of this.
What did the kids learn?
The project has given the kids more (new) knowledge about the dangers of plastic waste pollution and a better understanding of appropriate waste disposal
They have learned the importance of recycling
They have learned how they can contribute to save the ocean and how to improve the environmental locally.
Above all, they got an idea of what the only thing you can do to protect the environment

What happens to the bottles and lids Zanrec collects on the schoolyards?
As soon as Zanrec has collected the plastic bottles and caps, they are taken to the collection point – where they are sorted again and any previously overlooked caps are unscrewed. The re-sorting is important because many of the old bottles – e.g. those which are hardly recognizable as plastic bottles because they are so old – can no longer be recycled and are therefore unfortunately residual waste.
All recyclable bottles (and fortunately this is the majority) are resold to another recycling company from the capital of Tanzania, Dar-es-Salaam – where they are shredded and shipped to Asia to be used for new plastic products. On Zanzibar there is unfortunately still no company we cam think of that can do this – except Zanrec.
The lids go to a company called Ozti (one click brings you to Facebook) – here they make beautiful new things – bowls, chairs, plates, … and by the way, we visited them too.
How much waste was collected & disposed of during the monthly CleanUps?
Every month there was also a CleanUp action, alternately in Nungwi & in Kendwa. Thereby the "normal" garbage was collected & separated from it plastic bottles & lids: 1.634 kg of garbage were collected, what would go as residual garbage to the garbage incineration, goes on Zanzibar (unfortunately) to the garbage dump.
During these clean-up operations many plastic bottles were also found – 200 kg were removed from the environment and recycled by ZANREC.
And now?
The winning school is now allowed to make an excursion in December, the costs for this are also secured. We are already looking forward to the photos of the kids!
In February 2020 we will travel again to Zanzibar. Cause we then start phase 2. In Nungwi the project will be continued as in phase I for another 6 months. The corresponding financing has been secured and will be transferred monthly from 2020. You will then regularly find this item in the budget reports.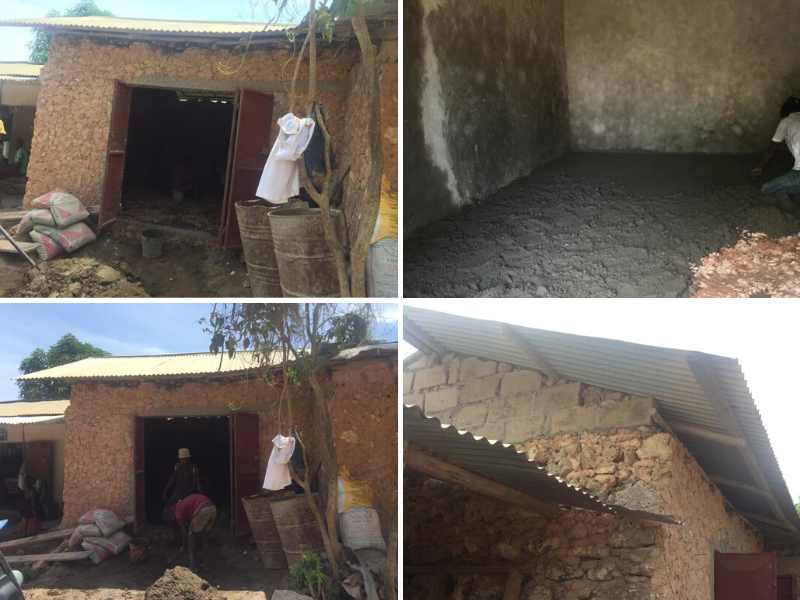 We will then start phase 2 in Kendwa. Actually this second phase is alreadxy ongoing at this moment we write this. We have rented a shop, which is now being "renovated" (see photos). Together with our project partner we are setting up a place for the children to bring their collected plastic bottles. These are then exchanged there for goods. Zanrec still collects the bottles & prepares them for recycling.
In February this shop should be ready to open, there will be employees and volunteer opportunities and in February this shop should be ready to open, there will be employees and volunteer opportunities. We are looking forward for phase 2 – where we hopefully can be around on Zanzibar again to implement everything live.
Check our Instagram Account for real-time updates. You are more than welcome to pay us a visit on a regular basis. And of course you will be regularly updated on this second phase in our member area.