Ozeankind® Clean-Up on Maldives. The Christmas Miracle of Dhiffushi. 3 tons of garbage.
We'd like to tell you a short story today. A story that only life can write. A story that perhaps only happened because it was meant to happen. Probably you know it already – the idea for the Ozeankind® project was born last year exactly here – on Maldives. A place that has a very special meaning for us and will have forever. We came back. It was time again for another clean-up on Maldives.
This post contains unpaid advertising.
This is the story of 37 environmentalists on a small island in the middle of the Indian Ocean, collecting more than 3 tons of garbage in a single day. From a not unimportant Minister of State of the Maldives, to whom we should suddenly explain the project of Ozeankind. From a former environment minister who wants to look at Micha's laptop photos.
From Marina & Micha in boardshorts during the lecture in front of almost all hotel owners of the island. From people who suddenly want to interview us with the words "Thank you for being here and for taking action, can I have an interview? I wanna put it on YouTube." Of 37 previously strangers who were later wearing a shirt with our logo on it.
The clean-up request came by email
Almost two weeks ago, we received a message saying something like: "Hey Michael & Marina, we have seen your video from the Clean-Up event on Thulusdhoo and we would like to have a similar event on Dhiffushi – would you come to us as well?" Not more than a week later a speedboat was waiting for us at the jetty of Thulusdhoo. The only passengers: US. The captain greets us with a question: "Welcome, are you guys from Ozeankind?". Yes, we are.
A few minutes drive at full speed we had arrived at Dhiffushi – and again people were welcoming us. This time it was our friend Hassan from Araamu Holidays & Spa, someone we were chatting with before. "It´s a pleasure to have you here, thank you, welcome to Dhiffushi."
Then we jumped into the electric golf car driving to the hotel, because after all we still had a lot to do. Island tour, beach visits, countless questions – and to prepare a presentation. The next morning the event should start, in the evening a short speech and introduction – from US! Audience: all hotel reps of the entire island.
Even two "celebrities" wanted to exchange a few words with us
It was about 10.30 pm when we thought that we could sleep soon, a message came in: "Michael, can we speak in the lobby, we have a special guest tomorrow." As Hassan told us, the current Minister of State for Energy and Environment and his friend, the former Maldives Minister of the Environment, would be guests at the same hotel. And we should meet both of them in the morning cause they think that Ozeankind could be very interesting. And we should not forget to give the an event shirt. Works.
And that´s how it has happened. We have exchanged our ideas for Maldives the next morning and we have been able to explain our project to him. Of course in board shorts and flip-flops and with mirrored sunglasses on the head. At the end he asked where he could find us online and gave us his business card. Of course.
After our new friend had held a speech on Dhivehi to all the great people and after the obligatory T-shirt handover including group photo, everything could finally start. Please pay attention to the two men in whose midst we kneel – these are the two ministers. It started – and HOW it started!
Clean-Up on Maldives – it was 9 am when the party started
37 people – consisting of the owners of all hotels on the island including some employees, the island doctor, two nurses, a teacher, the mayor and the two of us. Everybody has helped! Also in: an excavator, three small trucks, pickaxes, spades and countless sacks. The fact that the excavator driver helped during his lunch break fits in with this unforgettable experience.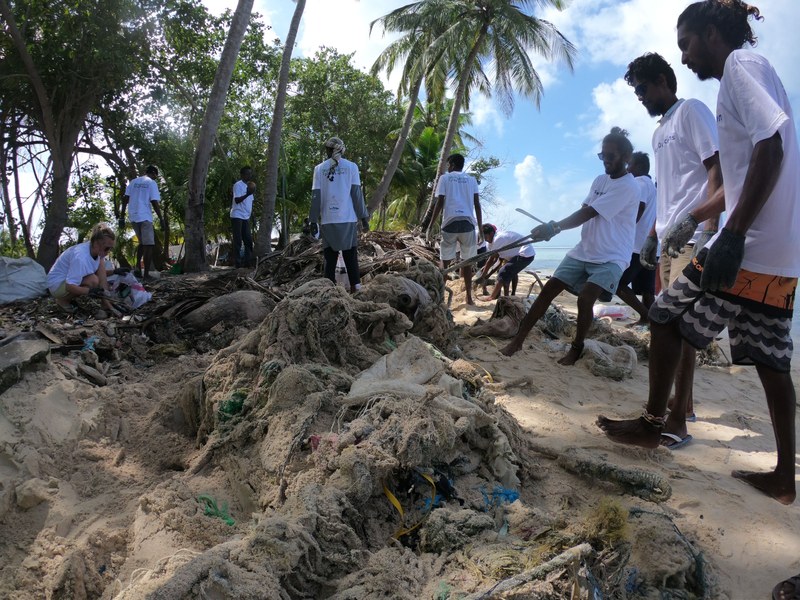 The planned two hours turned into four hours in the end. Nobody wanted to stop! Plastic waste was untiringly excavated, collected and swept up again and again. Together with up to 10 people we pulled ropes out of the sand which were buried in the sand probably for several decades.
Oh yes, in the evening we even gave the official lecture. The audience was already known to us. But that's a story we'll tell you next time. Because the Clean-Up should have been actually only the beginning. We're not quite finished here! Not even close to the end.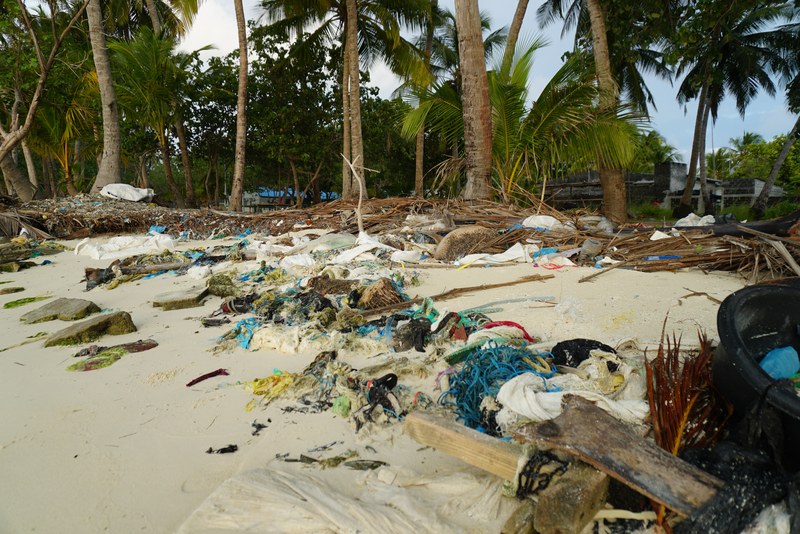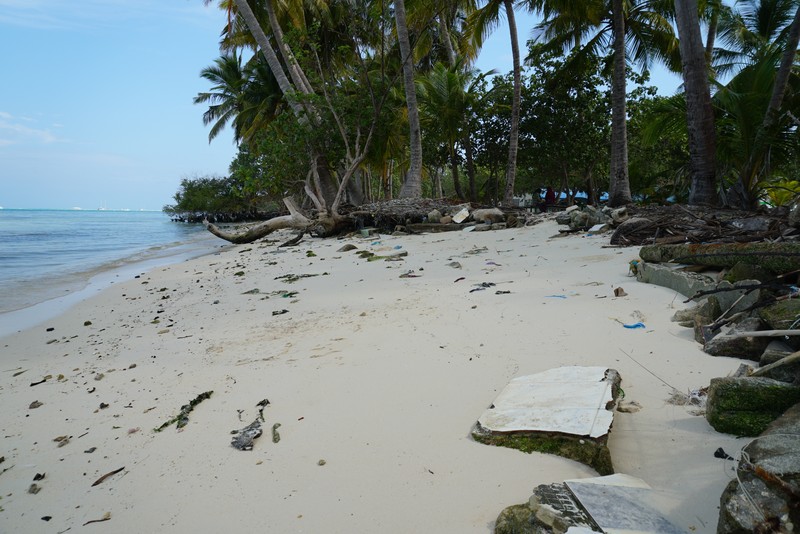 Of course we can be wrong, but somehow we can't help feeling that we'll be back soon on Maldives. And if we hadn't booked the next flight, we probably would have stayed here. REALLY.
Here you can check the video of the event …
A very special thank goes out to our new friend Hassan. Hassan is Assistant Manager Marketing of Araamu Holidays Dhiffushi and has done some really great work these days.
Oh yes, by the way, would you like to get to know the real Maldives for yourself? On a low budget? We have written a travel guide (ebook) that can save you a lot of research and provides valuable insider tips. Here you come directly to our exclusive travel guide for the Maldives (german-only).