Ozeankind® in Malaysia – Awareness workshop in Kuala Lumpur.
Standing in front of 40 students, being allowed to talk about our own transformation. Tell the guys about plastic waste in Germany as well as in the rest of the world, speaking about our experiences. We gave them useful tips and we strongly hope that our words can inspire & motivate some of the 14-18 year olds to be the change they want to see in the world. At 8 o'clock in the morning we are actually standing in a German school and giving an awareness lecture – in Kuala Lumpur. How amazing is that?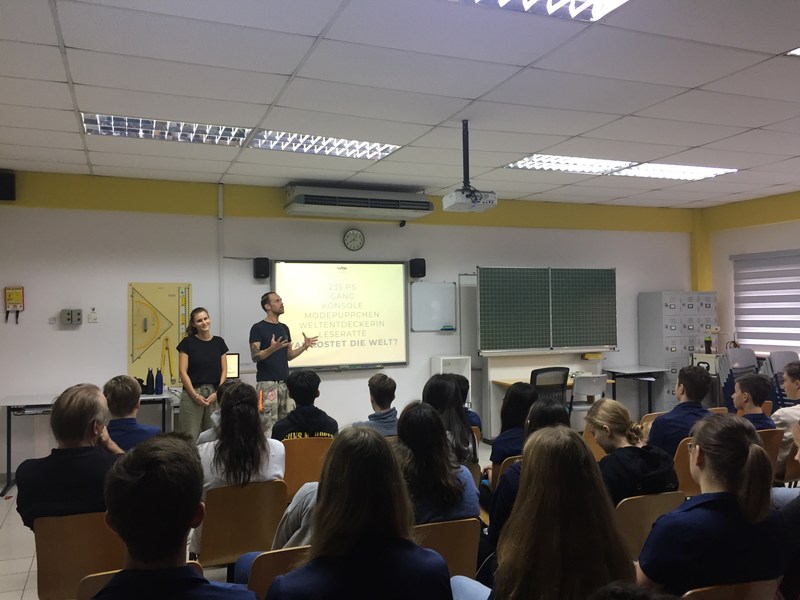 For us it is the first lecture as board members of our own NGO. If someone would have told us two years ago, we probably wouldn't have believed it. It was such a great experience, there will definitely be more of those lectures in the future.
In 2018 we have implemented a small school project together with PAS. You can read about this project on our blog.

How did we contact the german school in Kuala Lumpur?
At the beginning of December 2018 we have contacted the school management, told them what we were doing and above all what we wanted to change in the world. Only some days later the positive answer came via email – from a teacher´s colleague. In the middle of January we met for the first time and discussed the lecture we were supposed to give on February 1st!
The German School in Kuala Lumpur exists since 40 years already. It is one of 140 german schools abroad and the only one in Malaysia.
"DSKL's primary objective is to provide its pupils with a school education that is geared to German educational goals and German school-leaving qualifications. In addition, we want our students to gain intercultural experience by familiarizing themselves with the history, culture and everyday life of our host country Malaysia." (Quote DSKL)
Okay, but why are we giving a lecture in Malaysia?
Why not? 🙂 We are trying to grab every chance to spread our mission! Whether in Malaysia, Germany or anywhere else. Obviously, our words have reached some of the kids. That's the best payment you can get!
For a better understanding of why we "travel" so much: We have a location-independent lifestyle (maybe you've heard the term digital nomad before). This means that we can choose the place where we want to do our work. It is important to have a good internet connection AND, of course, opportunities to carry out our active association work on site.
Active association work is for us personally not only to pick up waste! Because as you might imagine, there are a few additional tasks involved in running a NGO. By the way, in order to avoid misunderstandings, our lifestyle is not financed from the association's money.
In December and January our focus of life is Kuala Lumpur. To plan our first association year, to prepare upcoming projects, to make contacts, to do association accounting and all sorts of tasks, which you might not notice much about. Example … all Ozeankind® e.V. – Projects 2019 have been planned in exactly these two months.
Did you use any donation money for this school project?
Of course not. As we said, we were in Malaysia for two months to do our job. In such cases we generally pay the costs for the flight, accommodation and meals out of private pocket. Alternatively we could also stay in our flat in Germany – but we decided not to be in Germany all year round.