First CleanUp in 2019 – the 13th CleanUp in a row.
We have started the new year as successfully as we have finished the last! So many rebels have followed our call for the 13th Rebel CleanUp – and in the end we made it again. More than a ton of waste – this time we have picked up the incredible amount of 1.159,23 kilos of waste on a single weekend! And that's not even all …!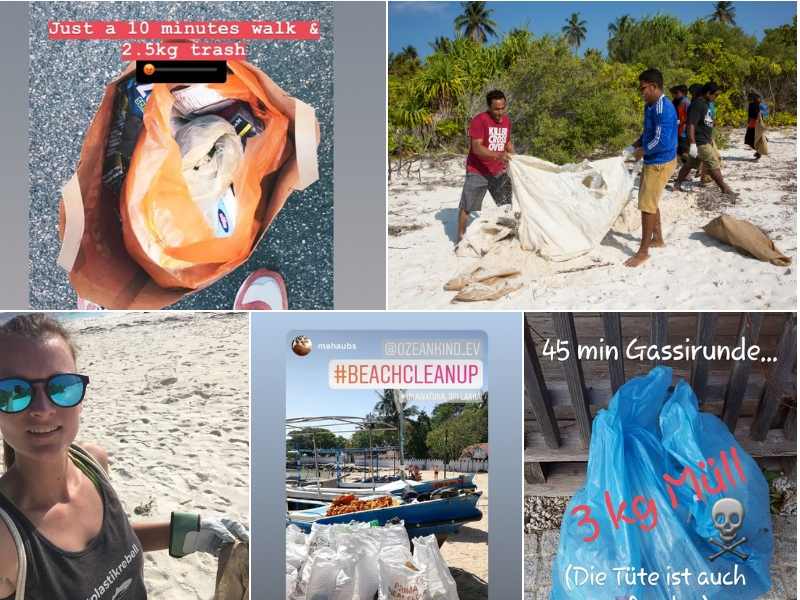 Germany doesn´t have a garbage problem?!
We were especially happy about many individuals who went out to collect garbage in Germany, spread all over the country. A team from Herborn (Dillkind) has collected insane 500 kilos of waste. That is absolutely amazing! Especially because it was in the middle of Germany and not in Asia, where the plastic waste problem is the most severe. That is at least (still) the opinion of many people here in Germany. But we have already dealt with the subject several times and will not get tired to repeat it: WE DO HAVE A WASTE PROBLEM. In addition to that some people have a mind problem at the same time 🙂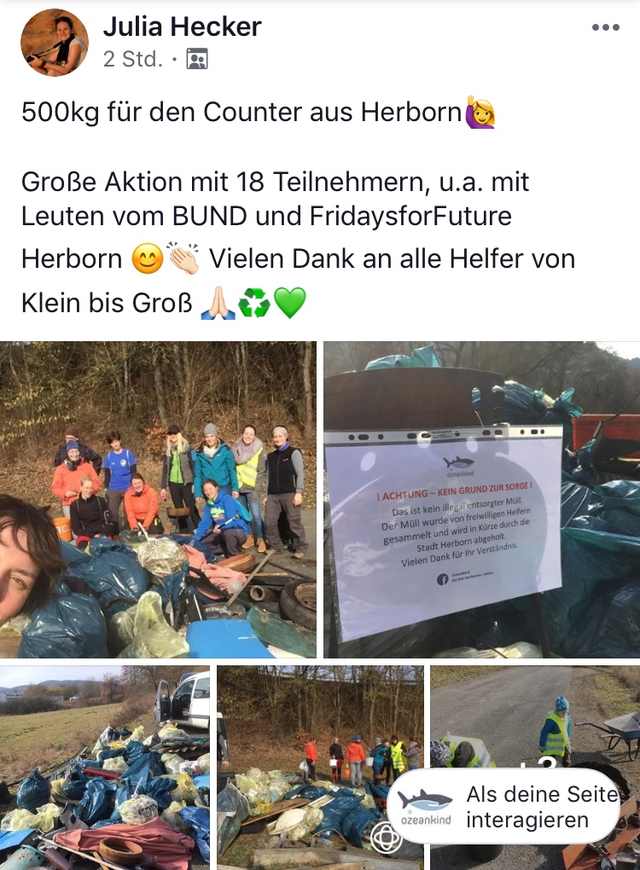 Ozeankind is teamwork!
Since ALL OF US together have already collected 28.953 kilograms of garbage before the CleanUp, according to the calculator that's already more than 30 tons now! If you do not understand what we´re talking about, here´s a short explanation:
Our goal is to collect at least 50,000 kg of waste by 2020 – with the help of our community. Every kilo of garbage you pick up and report to us goes on the counter (on our website). And of course all the weights of the organized and local cleanups will be counted in as well.
WE ALL, EVERYONE ONE OF US, can pat themselves on the back today at the latest, we all can be proud to be part of such a team. Over and over again!
The Plastikrebell® CleanUp is so much more than just picking up other people´s waste. It's proof that it doesn't necessarily take hundreds of people in the same place at the same time to make a difference … but that mutual motivation, teamwork and above all ONE IMPORTANT COMMON OBJECTIVE are sufficient for hundreds of people in different places to make both their own world and the world of children a little bit better.
You can be part of the team 24 hours: Become a supporting member or join our free international Facebook Group.
The fact that we have already removed more than 30 tons of garbage from the environment or at least moved it to a better place than before is almost the most beautiful and most important "minor matter" of all.
When is the next CleanUp?
After the CleanUp is before the CleanUp. Because also in March there will be the next possibility be part of the Ozeankind® e.V. drift! Including November there will be events. We´re looking forward to it. Where to find the upcoming dates? Here or on our Facebook page.