Rebels in action – 11th Plastikrebell® CleanUp.
Last weekend it was time for another event. The 11th Plastikrebell® CleanUp is history. And yes, this freaking number on the picture really is the final result. The result of 48 hours of environmental action. Many people supported us. Again. Armed with garbage bags, gloves or tongs. Alone or in groups. In different parts of the world. Especially in Germany.
Berlin, Bonn, Cologne or Lech, Leipzig or Nuremberg – Thailand or Mauritius. It is such an amazing feeling to see what we can achieve together – again and again.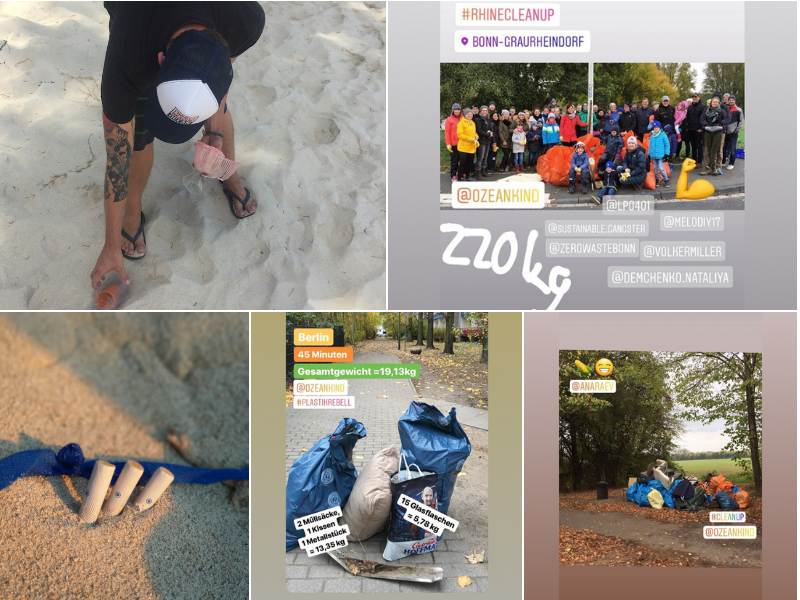 However this time, we were very shocked.
Not because so many plastic rebels and together have once again picked up the insane amount of 1,127.9 kilograms of garbage … because THIS is AMAZING and we should be so proud of our performance.
Not even because, since Ozeankind® was founded, we have all collected an incredible total amount 26,230 kilograms of plastic waste and other rubbish in 30 countries. Because this is even more AMAZING!
No, we are SHOCKED because we have now exceeded the total mark of 10 tons of waste in the clean- and recycling-wonderland Germany. Ten thousand kilos … unbelievable!!!
QUESTION … what do you think is worse?
Option 1: 10,054 kilos of garbage in the environment of a rich industrial country with a recycling system, where the boys and girls from the garbage collection regularly collect the garbage … or
Option 2: 16,176 kilos in 30 other countries where there is often no waste collection or recycling system …
Ob both days, we´ve been active on Mauritius. Directly at the beach. One time between cliffs & rocks, the other time on a very popular beach in Flic en Flaq. Every Sunday all the people meet on the beach. The whole day is spent with family & friends, lots of people have a barbecue. That's how a lot of garbage is created pretty quickly. Unfortunately, not everything of it finds its way into one of the numerous rubbish bins.
So we have decided on a Sunday evening that it might be the better option to postpone our Sunday cleanup to Monday, in order to be able to clean up the mess people might have created on the Sunday. But – we were quite surprised – in a positive way! Monday morning at 10 o'clock the beach was clean, the full garbage cans emptied. We rarely found small pieces directly in the sand. Wow. Obviously some hard-working people did a great job. We have definitely seen it a lot worse.